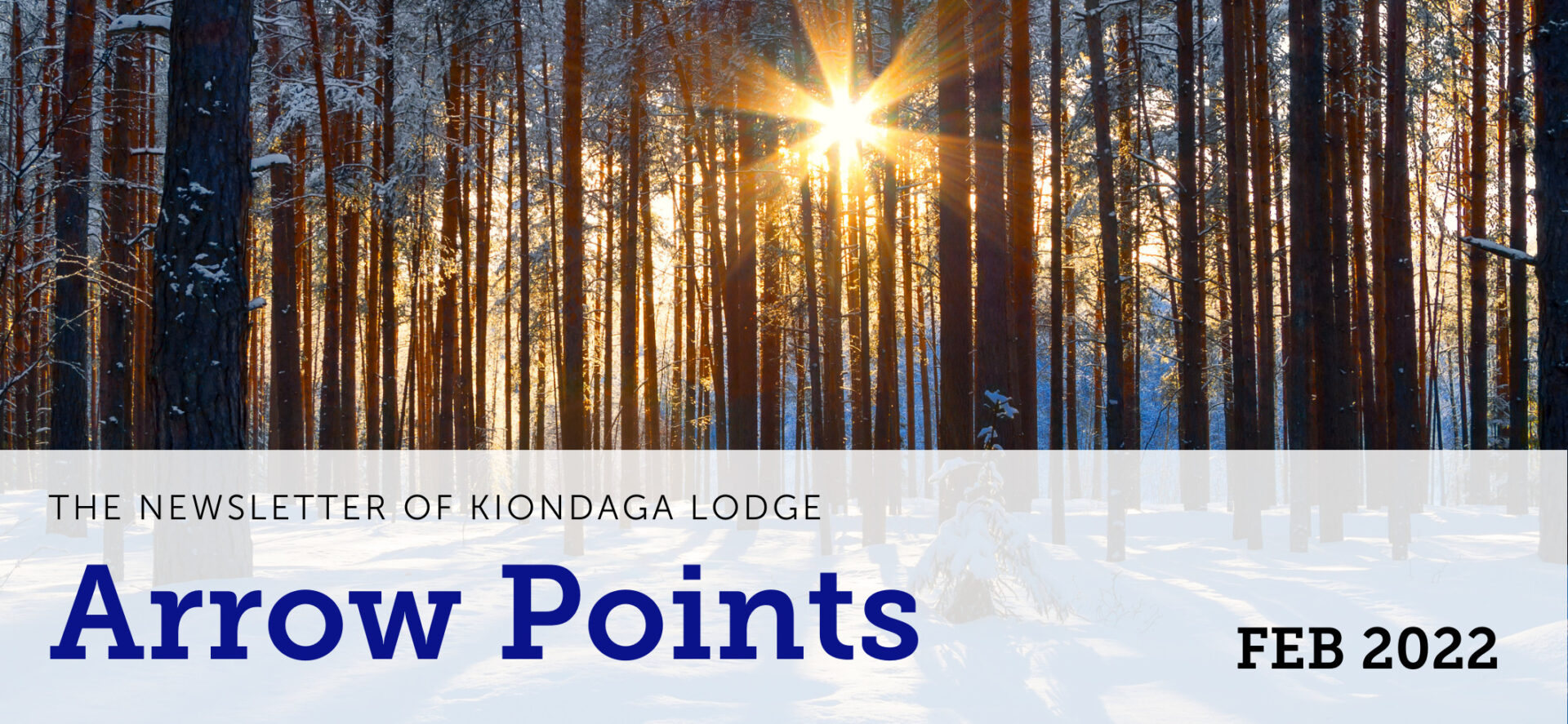 Winter Banquet Recap
January 8, 2022
This year's Winter Banquet was very successful. We had the traditional bits of the program including many speeches all centered around a theme of "fire", induction of the new officers, and of course a delicious meal, this year catered by Old Thyme Deli and Meat Shop. As a special guest, our Section Chief Joey Grabill joined and presented a key note speech with an influential story, and explained our new section identity as "E-1". Linda Schweickart, Logan Carter, Donnie Paynter, and Andy Hardgrave received their Vigil Honor certificates and Lenni Lenape names. Donnie's name caused a good laugh when translated as, "Loud One who Makes Others Smile". Additionally, we had FOUR members be granted the Founder's Award: Wayne Carter, Luke Schweickart, Mitch Wagner, and Andy Hardgrave. We also debuted new recognitions inspired by our Thrive Connect Engagement including the First Year Arrowmen Award given to Alex Schmidt and Jacob Stoen, and awarded many Certificates of Appreciation. Finally, the Trading Post Staff won the Committee of the Year title. This was a wonderful night of fun and we hope to see many more successful evenings like this in the future.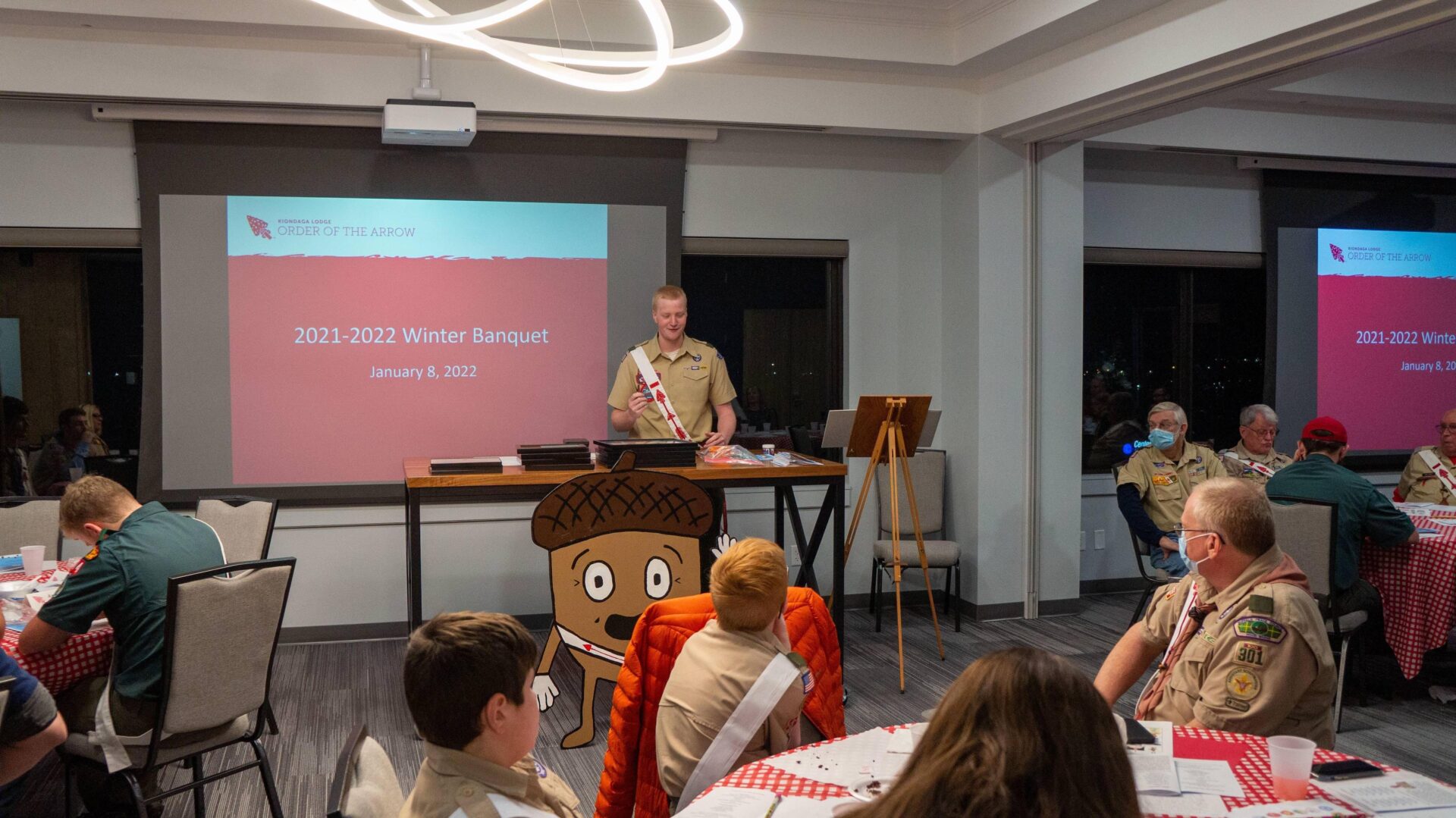 Welcome our new Officers
Congratulations to the following officers who were sworn in at our Winter Banquet. (From Left to Right)
Vice Chief of Activities – Simon C.
Vice Chief of Finance – Jack J.
Vice Chief of Publications – Jacob C.
Vice Chief of Inductions – Sam F.
Secretary of Recording – Joshua R.
Lodge Chief – Andreas H.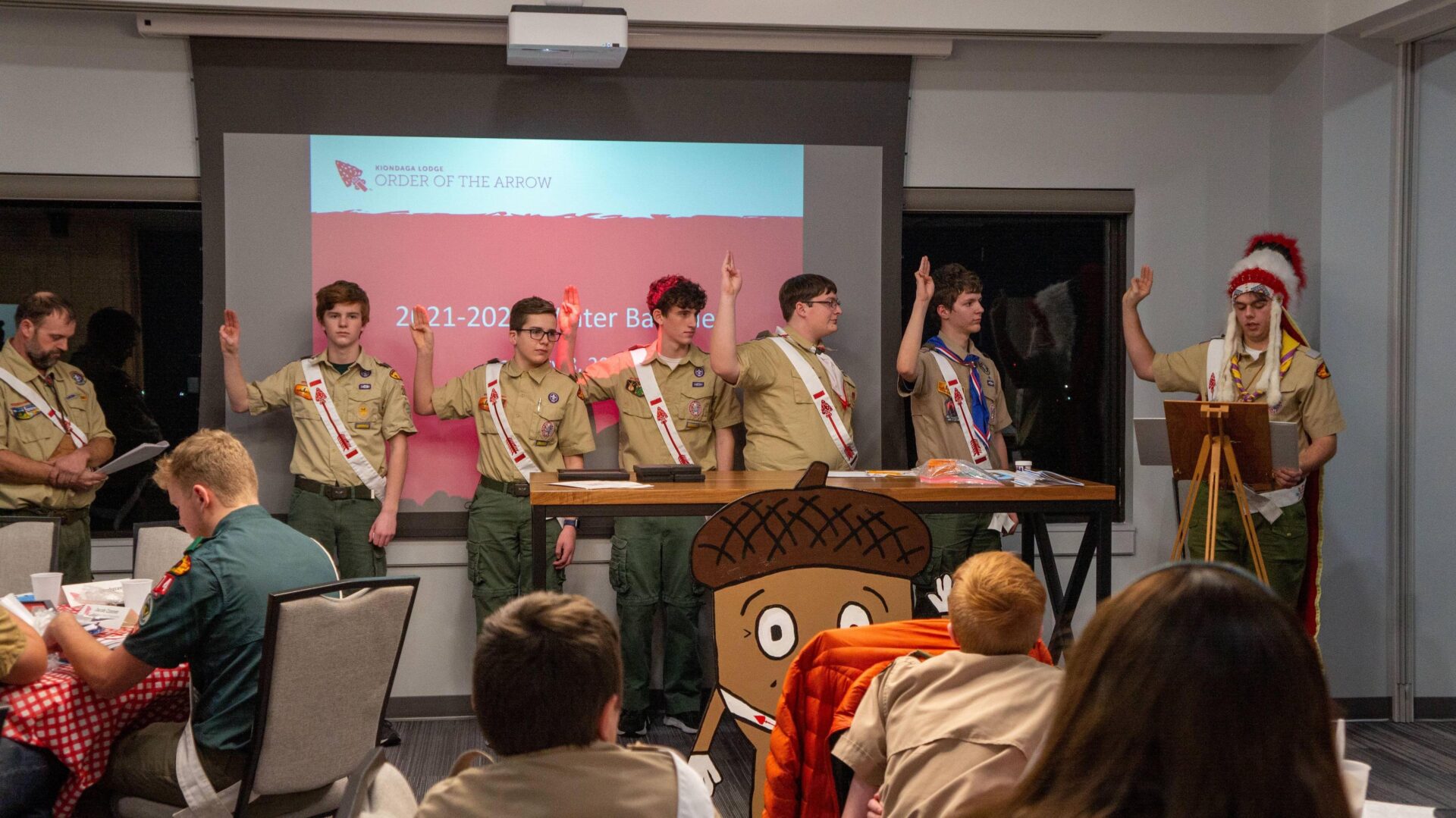 "Hello and happy belated New Year! Our winter banquet which started off our 2022 is the highlight article of this newsletter, but I wanted to draw more attention to the recognitions we awarded. As a goal of our Thrive Connect Engagement, we sought to recognize our deserving and serving members including our newest arrowmen, our committees and teams, and all of the other members who helped run the program of the Lodge. While I, our officers, and our advisers are tirelessly working through our weighty responsibilities, it still takes nearly every member of the lodge to preserve our traditions and host our events.
When it comes to our plans for this year, we are seeking to improve and expand everything we are doing within the lodge. Though our Thrive Connect Engagement is concluded, we are still seeking to complete goals for unit elections, record keeping, and unit relations; along with our 2022 vision and goals for new activities at every event and more council exposure. However these things can not be accomplished without your active involvement as our younger arrowman, our returning adult member, our
scoutmaster, our OA unit representative, or as a parent.
Everyone who has ever been a full member of the OA
has completed the same ordeal of service, a night
alone, silence, and scant food… except for the very first
ordeal ceremony. With different displays of the ideals
of the OA, one I want to bring attention to a bundle of
sticks. It was shown to the candidates that a single
stick will eventually break if enough pressure is applied.
However, when many sticks were bundled together,
it was much stronger and not easily broken. I
challenge you to seek the place you belong in this
bundle."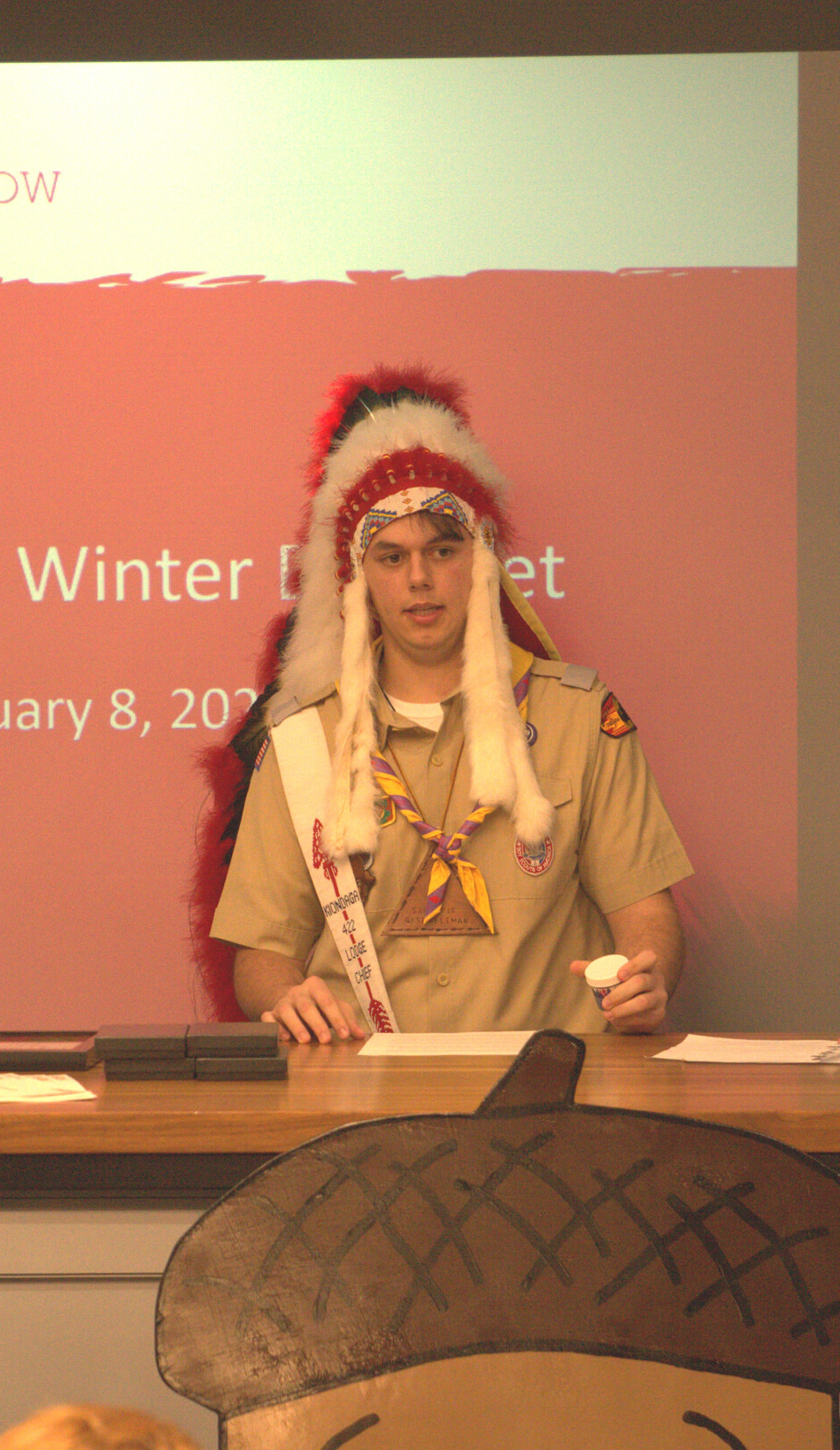 Rank Up 2022
March 26, 2022
Happening in just over a month is Rank Up on March 26! The event is a great service to the council by helping many new scouts make their way to first class. We need help from you as Arrowmen to serve as staff at the event. If you have experience in orienteering, tools and fire, nature, or first-aid, please register as staff as soon as possible. Lunch is free for all staff.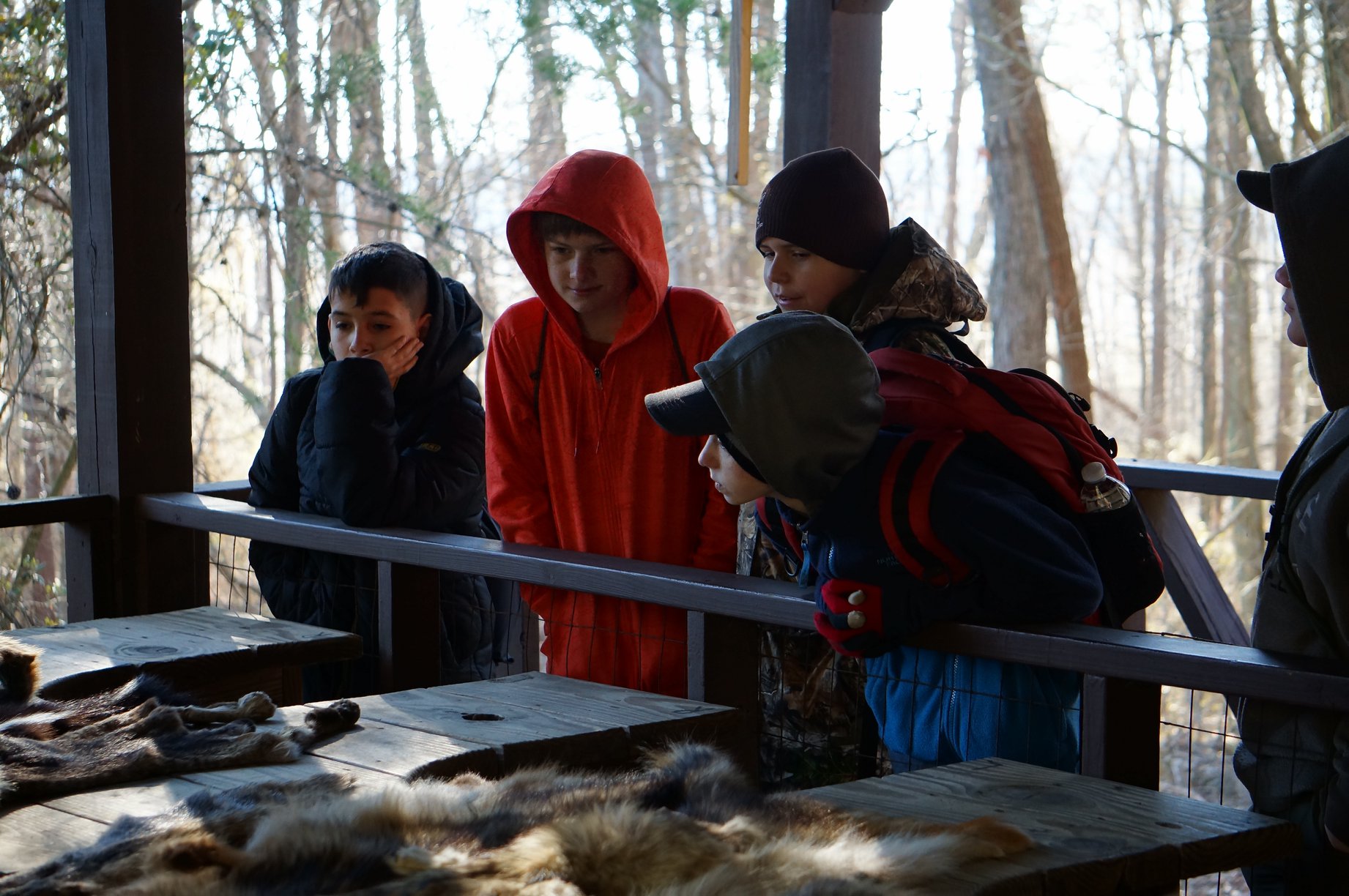 NOAC 2022: July 25-30
If you haven't already registered to attend the 2022 National Order of the Arrow Conference at University of Tennessee: Knoxville, don't wait any longer. The lodge is given a limited number of spots, so you may lose your spot if you don't apply to attend soon. Apply now online! The unbelievable shows, never ending trading, intriguing training, and unique activities make NOAC like no other event. NOAC is open to all members of the OA; Ordeal, Brotherhood, Vigil, Youth and Adult. This year NOAC is at University ofTennessee Knoxville from July 25-30. If you have even the smallest inclination to go to this amazing event I encourage you to reach out with any questions or join our contingent. Direct questions to our contingent or lodge leadership. Learn more about NOAC program at noac2022.org.
General Inquires: [email protected]
Contingent Leader (Adult): Brian Conner
Contingent Leader (Youth): Jacob Conner
OA High Adventure Opportunities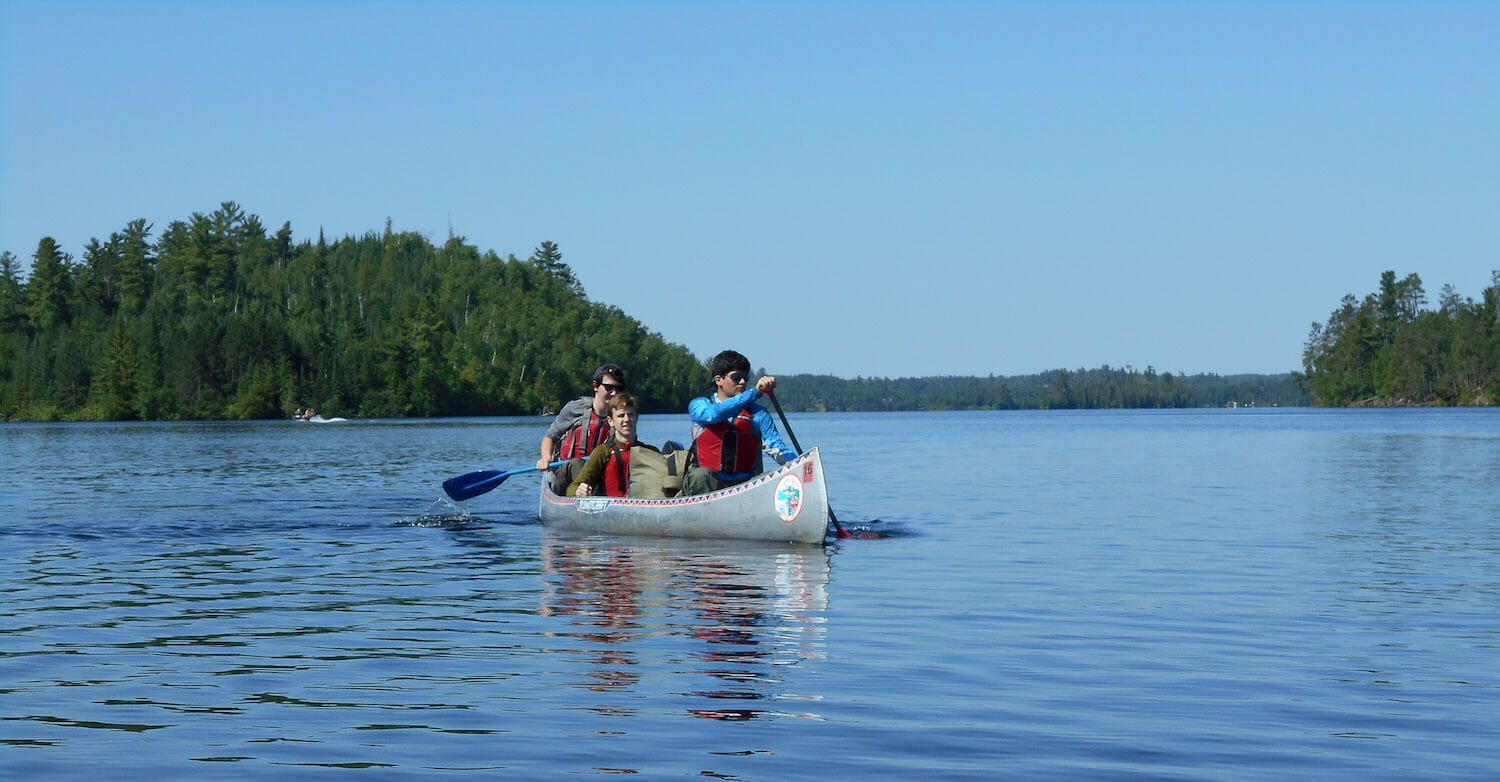 There are five different High Adventure opportunities for all OA members from ages 12-20. These opportunities include Northern Tier, Summit Bechtel Reserve, Philmont Scout Ranch, and Florida Sea Base. These programs are at a reduced price since service is given in return for the amazing experience at these High Adventure Bases. You go to these bases as an individual and come back with plenty of stories, a new high adventure experience, and lots of new friends! To learn more about OA High Adventure Programs, please visit oa-bsa.org/high-adventure.
Winter Camp Callout Recap
At the Lincoln Heritage Winter Camp, which happened at Old Ben over the weekend of January 29th, Kiondaga Lodge completed a couple of unit elections and a Call Out Ceremony! Although it did not reach above freezing the entire day, the members who helped us out were very cheerful. To warm us up, of course we made a large fire and called out 10 new candidates. Thank you to the ceremony team, and the unit leaders who were all glad to see the OA.
Get Involved in the OA!
There are many ways to get involved in the Order of the Arrow, but the most influential way you can help locally is within our many lodge committees. Our lodge committees consist of Communications Team, Ceremonies Team, Inductions Team, Activities Committee, Finance Committee, Trading Posts Staff, and Special Events Committee. 
Express your interests in joining a team using the form or reach out to lodge leadership!
Nominations for the Vigil Honor
Do you know an Arrowman who has gone above and beyond with serving our Lodge, Council, and Camp? The Vigil Honor is the highest honor that the Order of the Arrow can bestow upon its members for service to their lodge, council, and Scouting. Membership cannot be won by a person's conscious endeavors. Alertness to the needs of others is the mark of the Vigil Honor. It calls for an individual with an unusual awareness of the possibilities within each situation. 
Any member of the Order of the Arrow registered in Scouting and in good standing in a regularly chartered lodge is eligible for recommendation to the National Order of the Arrow Committee for elevation to the Vigil Honor provided that, at the time of the recommendation, the individual has been a Brotherhood member for a minimum of two years. 
Nominations are currently open for Kiondaga Lodge, If you know someone who you would wish to nominate, please fill out the form and return it to the Eykamp Scout Center.
Troop and Crew Visitations
Has your troop or crew had their OA unit visitation and election for 2022 yet? If not, contact the Vice Chief of Inductions, Sam Freeman, or the Lodge Chief, Andy Hardgrave, to schedule one, or get information about completing an election. We are prepared to conduct visits online or in person. To join the OA, a scout must be elected by his or her peers. Check out the revised OA Induction Requirements on the Order of the Arrow website. Some requirements have changed such as long-term camping and the allowed use of digital camping nights.
You can schedule your election by emailing us at [email protected]!
Download this issue as a PDF
Want to download this issue of Arrow Points or print it off?
Click below to view the full PDF version.