Welcome
Home of Kiondaga Lodge, Order of the Arrow
We are located in the Buffalo Trace Council. The council covers the Evansville area encompassing 15 counties in Indiana and Illinois. The Council currently serves over 16,000 Scouts/Scouters in over 250 packs, troops, teams, crews, groups, ships and posts. Our lodge was founded in 1949 and its totem is the White Oak Acorn. We are a part of Section C-6A.
Our Lodge holds many events throughout the year, including fellowships, trainings, banquets and Lodge Executive Committee (LEC) meetings. We also publish a newsletter which covers current Lodge events, news, and announcements.
Have a question? Please visit our contact page.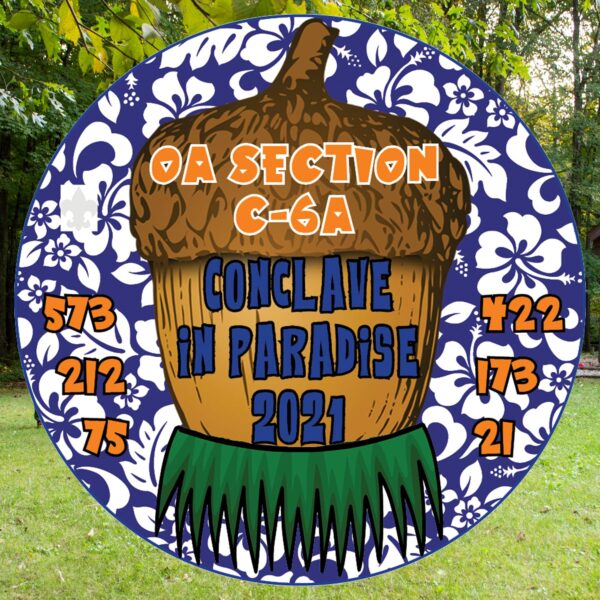 September 27, 2021
Section C-6A Conclave 2021
This year the annual Section Conclave is being hosted by Kiondaga Lodge, so get your OA Sash and your Hawaiian shirt ready for a fun-filled weekend! Join Arrowmen from all across Indiana for this year's theme of Conclave in Paradise. ...
Who We Are
We are part of Buffalo Trace Council headquartered in Evansville, IN. We serve 15 counties in the Tristate area. Over 250 packs, troops, teams, crews and posts are registered through our council, with a membership of more than 16,000 youth and adult participants!
Upcoming Meetings & Events
Section C-6A Conclave

October 22, 2021 - October 24, 2021
Old Ben Scout Reservation, 57345 E Co Rd 175 N, Winslow, IN 47598, USA
Haunted House at Spook-O-Ree

October 30, 2021 8:00 am - 1:00 pm
Buffalo Trace Council, Eykamp Scout Center, 3501 E Lloyd Expy, Evansville, IN 47715, USA
Check us out on social media for the latest updates!